2017 Canada Cup
2017 CANADA CUP
January 28-30, 2017 (Saturday-Monday)
Organized by the Canadian Fencing Federation, in partnership with the BCFA.
Competition Venue:
Richmond Olympic Oval
6111 River Rd Richmond, BC V7C 0A2
Dates:
Saturday, January 28th through Monday, January 30th, 2017
Registration:
This is a new system so you will need your CFF Licence to create a new account. Once logged in you will be presented with the events you are qualified for and competitions which are currently available in the system
http://events.fencing.ca/public/register
Registered fencers can sign back in and add additional events via:
https://events.fencing.ca/public/en
Registration deadline Jan 21th, 2017 23:59 EST, January 22nd to Jan 30th Triple fees + $200
Event Fees:
$50 administration fee +
$60 Cadet
$60 Junior
$60 Senior
$60 Veterans
Junior Team will be free – event will take place 30 minutes following completion of junior event.
Schedule: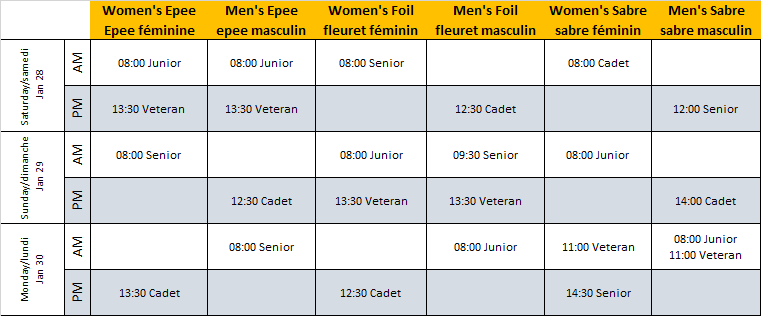 PROCEDURE FOR THE ENTRY OF A COMPETITOR IN MORE THAN ONE EVENT
Athletes may not take part in two (2) or more events in the same day unless their participation in the initial event has concluded prior to close registration/confirmation of any subsequent event. Athletes entering multiple events on the same day do so at their own risk; no refunds shall be provided.
Entry Cancellations:
Cancellation of entry due to a medical condition: full refund of EVENT fees, provided the CFF organizers are notified at least 48 hours prior to the event and a doctor's certificate is submitted. Event cancellations must be received by email at td@fencing.ca
Equipment and Clothing Standards for CFF Hosted Competitions:
The event clothing standards can be found here: CFF Domestic Competition Equipment Standards
Official Hotels:
5911 Minoru Blvd
Richmond, BC, V6X 4C7
Sheraton Vancouver Airport
7551 Westminster Highway
Richmond, BC, V6X 1A3
Online reservations: http://bit.ly/2fd8a7A
The Hilton Vancouver Airport and Sheraton Vancouver Airport are the official hotel partners of the 2017 Canada Cup, and are proud to offer the CFF the following preferred rates*:
| | | | | |
| --- | --- | --- | --- | --- |
| Rooms | Single Rate | Double Rate | Triple Rate | Quad Rate |
| Hilton Vancouver Airport | $139 | $139 | $139 | $139 |
| Sheraton Vancouver Airport | $139 | $139 | $139 | $139 |
* Group rates do not include taxes in effect at the time of check in (16.15%). Tax rates are subject to change and will be charged in accordance with Provincial and Federal Tax Legislation.
Hotel guests are entitled to:
Complimentary shuttle service to and from Vancouver International Airport (YVR). The shuttle runs every half hour between 4:00AM – 1:30AM.
Complimentary WIFI in the guestrooms and lobby area.
In-room safety deposit box and Fridge in all guest rooms.
30% off Full Buffet Breakfast
Complimentary Parking
Hilton HHonors and Starwood Points